All friends or group of friends of the Europe and UK regions can form a GIO Chapter and JOIN our network for FREE (nothing to pay) up to the 31st October 2022. This will benefit and expand your activities in all the different domains : Business, Cultural, Education, Health and Wellness, …etc
CLICK HERE , Please kindly contact us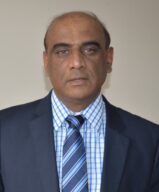 Mehen PONOOSAWMY landed in France in the early eighties after completing his post graduation at the University of Delhi. He devoted lots of his time in helping the community because he firmly believed that not all of us can do great things, but still we can do many small things with great love.
In France, he specialized in Information Technology at the University of Paris V1 and just after joined the biggest French IT company as Engineer. During those days outsourcing of IT projects with India was at its best. It was personally a great opportunity for him to be connected back to India. Within a short lapse of time the number of collaborates in India for the French IT company grew up to more that 150 000 and expanded into several business centers through out India.
Mehen is a genuine caring person. As said by Mahatma Gandhi : « Be the change you wish to see in the world » . Below some of his achievements done for the Indian Diaspora in France :
– Founder / President of GOPIO France Paris chapter – October 2014.
– Panelist in an international Francophone conference on « Cultural Diversity » – 22nd March 2015 – Paris on the occasion of International Francophonie Day
– Representing Indian Diaspora in the Welcome Committee with Embassy of India in Paris to welcome Prime Minister Shri Narendra Modi in France in April 2015 and Community Event at Carousel du Louvres (Paris) and again welcoming PM Shri N.Modi in August 2019& May 2022.
– Facilitator in helping students of France in joining French companies for Internship and job opportunities.
– Initiated the programme "Route to Roots" : to connect to "Mother India" of French youngsters (18 to 30 years) of Indian Origin families who have never been to India before through the "KIP – Know India Programme "
– Organize Pongal, Sakranti, Yoga Day, Diwali, Holi …and other cultural events regularly in Paris.
– Initiated the biggest Festival of Colours (HOLI) in Paris, Le Jardin d'Acclimatation where a record crowd of 30 000 people are annually gathered to celebrate HOLI.
– Convenor of Indian Diaspora International convention in November 2016 in Paris and November 2019 in Berlin.
– Panelist at different Indian Diaspora conventions (Durban, Bahrain, Vanarasi & Berlin)
– Created several chapters and groups with diaspora friends of UK, Belgium, Germany, Sweden and different regions of France
– Launched with his Indian Diaspora organisation the Welcome and Job Dating day for Indian students in France.
– Initiated the "French-India Scholarships" for needy Indian Girls to complete higher studies in Indian institutions.
– Brought on French National TV the Indian Cultural Group to participate in the programme "France Got Talents"
– Organisor of the Annual Gujurat Vibrant Summit with support of Embassy of India in Paris in 2021.